Pamper your pets with these food delivery services
April 9, 2020
At this point in the coronavirus pandemic, we've gotten used to store shelves emptied of staples… including pet food, making it an ideal time to try a pet food subscription service. Not only will your beloved pet get top-quality food in flavors they love — and not just whatever's left at the supermarket — you can also stay safe at home. It's a win-win.
Online shopping favorites Chewy, PetSmart and Petco offer autoship options on popular pet foods, with a small savings over one-off purchases. (Currently, Petsmart is also offering a 10% discount on online purchases that are picked up at a store curbside.) Meanwhile, subscription services take that convenient concept a step further, providing portioned, specialty food and customized plans. Some focus on dogs, a smattering are only for cats, but many cater to both.
Of course, if your pet has a health condition or other special considerations, you should consult with your vet before totally changing up their diet. This may be especially true right now. If your pet has a bad reaction to a new food, it's going to be harder than usual to get them in to see a vet quickly.
"The optimal pet food choice will depend on your animal's individual needs and life stage," says veterinarian Dr. Rachel Barrack, founder of Animal Acupuncture in New York City. "Call your veterinarian in order to make the best possible decision for your pet's health and well-being."
In general, when choosing a food for your dog, "Look for one that has undergone AAFCO feeding trials, meaning they have been extensively researched under the guidance of veterinary nutritionists," Barrack says, which all of the below brands have. If it's a cat you're feeding, "it's important that the most prevalent macro-nutrient is protein, followed by fat and then a minimal amount of carbs," she says.
And when you do decide on and order a new food during this stressful time, be prepared, urges Barrack. "Currently, as you're stocking the pantry with your personal essentials, make sure to have enough of your pet's food, medications, kitty litter and all of that on hand," she says. "A minimum 30-day supply is recommended." With that said, here are some of the top contenders in the pet food subscription arena, all still shipping and serving their furry patrons.
Pet Plate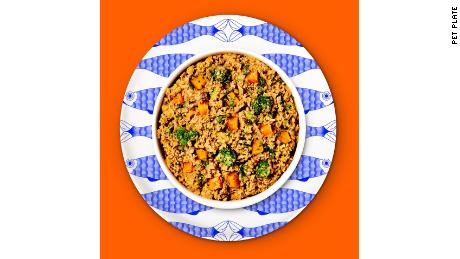 Pet Plate
Who it's for: Dog owners who are all about convenience.
The basics: Dinners that are ready to eat and created by vets show up like clockwork, making doggy mealtime easy-peasy.
What makes it unique: All four of Pet Plate's recipes (turkey, lamb, chicken and beef) are carefully balanced by vets to ensure they provide optimum canine nutrition. The meals are created using fresh, USDA meat and are pre-cooked and perfectly portioned. Being these are fresh meals, they arrive frozen. The food is packaged as two meals in one resealable container. So you can serve up half as breakfast, then put the rest in the fridge until dinner time. Once defrosted, all you need to do is put the food in your dog's bowl. The container is even microwavable.
Plans and pricing: Delivery is weekly; pricing varies quite a bit — from $2.50 to $19 a day — depending on the size of your dog and other factors, like their activity level, that can affect how much they eat.
Smalls
Who it's for: Parents of a very pampered kitty.
The basics: You get freshly-cooked food for cats delivered to your home on your own schedule.
What makes it unique: You won't find nearly as many subscription services exclusively for cats as you will dogs, but here's one that's worth considering. Smalls sends off fresh, freeze-dried cat food that's grain-free. It is pretty much what your cat would be eating if you were motivated to make their meals in your kitchen. And since, as any cat-lover knows, felines are often persnickety about new foods, Smalls shares tips on how to make the transition go smoothly (and even offers a full refund if it doesn't).
Plans and pricing: You can opt to have food arrive anywhere between every single week and once every six weeks. The cost ranges from $2 to $3.50 per cat, per day.
_______________________________________________________________________________
Ollie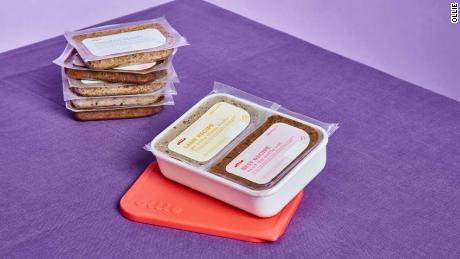 Ollie
Who it's for: Doggo devotees who want a truly personalized plan.
The basics: The fresh meals offered through Ollie are tailored to your one-and-only pupper.
What makes it unique: Your pooch gets to enjoy food of the same quality as what you might prepare for yourself, but geared to their unique needs. The wholesome meals are vet-formulated and include meat, vegetables, fruits and supplements. You'll get serving recommendations based off of your dog's age, weight, activity level and more key factors. You also have the option to sign on to have yummy, yet wholesome, dog treats come along with the meals. As if you wouldn't…
Plans and pricing: You can choose to have packages arrive once a month, or once every two weeks. Cost will run about $9 to $42 each week, depending on the attributes of your dog.
_______________________________________________________________________________
Spot & Tango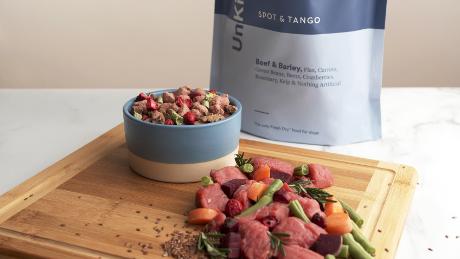 Spot & Tango
Who it's for: Those who prefer to stay away from the typical grains found in dog food, instead offering brown rice, chia seeds and flax.
The basics: This popular service dispatches fresh dog food made in small batches.
What makes it unique: The dog food is pretty much the human equivalent of farm-to-table cuisine. It is made from ingredients that come from family farms in upstate New York, and in small batches without artificial preservatives, additives or fillers. Canine nutritionists came up with the recipes, and they arrive in vacuum-sealed packages, frozen. Aside from the company's well-regarded fresh food, it just came out with a dehydrated food, UnKibble, for those who prefer a pantry-stable option. It too is made from human-grade meat and produce, with no fillers or additives. When you sign up, you fill out a quiz that ascertains your dog's needs, but also takes into account what they like to eat.
Plans and pricing: Deliveries show up every week, at a cost of $2 per meal or higher, depending on your dog, as well as whether you want the fresh-frozen meals, UnKibble or both. Your first shipment is considered a trial, so you're not on the hook if, for whatever reason, your dog isn't loving the food.
_______________________________________________________________________________
The Farmers Dog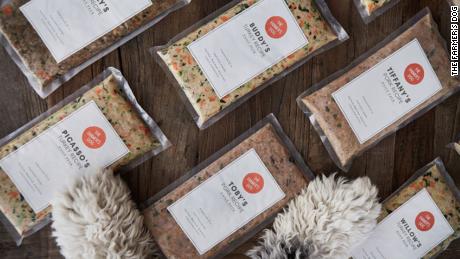 The Farmer's Dog
Who it's for: Those for who see their dog as essentially their human child.
The basics: This service is a favorite of many dog parents, thanks to its top-quality, human-grade fresh food tailored to individual dogs.
What makes it unique: Each fresh meal contains USDA-approved ingredients, and it was made within a few days of when it arrives in your hands. Complete a pup profile to ensure that you receive proper formulas and portions. The healthy, original formulas — which include pork, turkey and beef —also include lentils, a proprietary blend of minerals and vitamins, and fish oil.
Plans and pricing: You can set up the delivery frequency that works for you, from once every two weeks to once every three months. A week's worth of food will run you somewhere between $16 and $90, depending on your dog.
_______________________________________________________________________________
Pretty Please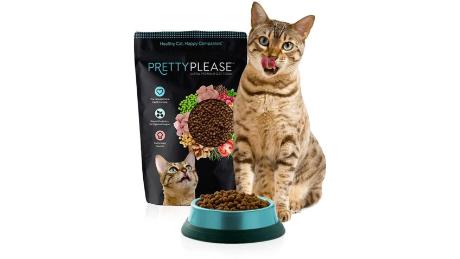 PrettyPlease
Who it's for: Parents of kitties who go for dry food over wet.
The basics: The PrettyPlease service is a solid choice as an introduction to cat subscription services.
What makes it unique: High-quality ingredients, even down to the very end of the ingredient list, impress many cat parents. PrettyPlease dry cat food has no artificial coloring, preservatives or fillers. The formula, rich in vegetables, was created by a feline nutritionist and boasts 24 vitamins and nutrients, including biotin, prebiotics and probiotics. A bonus: PrettyPlease is from the same company that makes Pretty Litter, a new litter that only needs to be completely changed out once a month, and changes color to indicate potential clues in your cat's health. You can get both delivered together, an option plenty of fans of the brand take advantage of.
Plans and pricing: The monthly delivery of PrettyPlease works out to about $25 per cat.
_______________________________________________________________________________
Only Natural Pet
Who it's for: Dog and cat people who like the idea of feeding their best bud a paleo-style diet.
The basics: This service will send you a wide variety of formulas and flavors of Only Natural Pet food, from grain-free to raw, canned to dehydrated.
What makes it unique: Protein is king with Only Natural Pet food. Meat is the first ingredient in all of it, with no potatoes or grain. It guarantees 33% minimum crude protein, which is on the high side. Aside from food, you can also have a variety of other pet products shipped to you, not unlike Chewy or Petsmart. You can get convenient deliveries of bully sticks, beds, toys, litter boxes and just about anything else you might need to keep your pet comfy and entertained while the dog park is still off limits.
Plans and pricing: The auto-delivery plan is pretty straightforward: Set it up to fit your timing needs, and you can cancel or suspend it at any time without a fee. Price will depend, of course, on what you order. Shipping is free if your order hits $49; otherwise, it's a $4.95 flat rate. It's currently offering 25% off your first order if you sign up for its newsletter. And right now sitewide, you can get free shipping with the code SHIPFREE.
Pet feeding accessories
Top Paw Slow Feeder Pet Bowl ($12.99)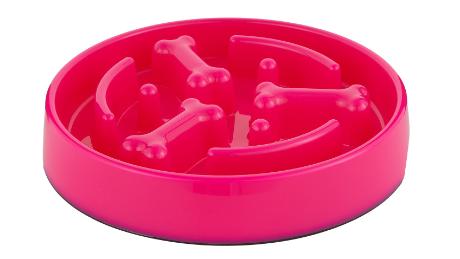 Top Paw Slow Feeder Pet Bowl
This clever feeding dish can be used for a dog or cat who tends to gobble down their food too quickly. That habit isn't good for their digestion. The puzzle design naturally slows them down, engaging them by providing a little bit of play at dinnertime.
Catit Flower Pet Fountain ($27.99; originally $33.99)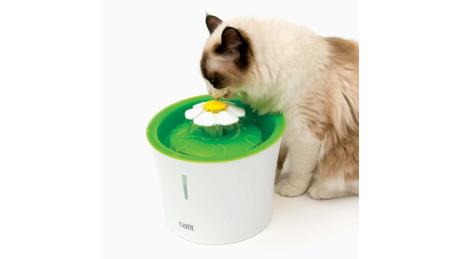 Catit Flower Pet Fountain
Cats are not known to be big water drinkers. It's the rare cat that will lap away at a bowl of water as enthusiastically as her canine comrades. But adequate hydration is important, particularly for felines on a dry-food diet. Enter this fountain. Ever see a cat trying to drink out of dripping faucet? This has that same allure, the splish-splash of moving, shimmery water.
_______________________________________________________________________________
Wild One Bowl ($25; wildone.com)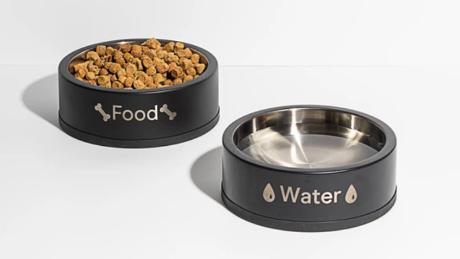 Wild One Bowl
Give your dog's dinnertime an upgrade with these entirely customizable stainless steel bowls, which you can personalize with up to 26 characters and a choice of 10 different emojis.
Learn more About: